Professor Emanuele Neri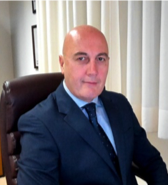 Professor Emanuele Neri graduate in Medicine and Surgery from University of Pisa in 1994. He then joined the Department of Diagnostic and Interventional Radiology at University of Pisa as Assistant Professor of Radiology. He is now Associate Professor of Radiology within the Department of Translational Research and New Technologies in Medicine and Surgery, where he leads the Imaging Laboratory and and Chair of the 3rd Academic Unit of Radiology at Pisa University Hospital.
He spent most of his scientific / research carrier in the field of imaging informatics, and oncologic imaging. The most recent activities have been focused on the development and validation of imaging biomarkers, imaging biobanks and artificial intelligence.
HONOURS AND MEMBERSHIPS
Chair of the Master in Interventional Radiology, University of Pisa
Chair of the Master in Oncologic Imaging, University of Pisa
President of the Scientific Committee of the Foundation of the Italian Society of Medical and Interventional Radiology (SIRM)
Chair of the Research Committee and member of the Board of European Society of Oncologic Imaging (ESOI)
Member of the Radiology Informatics Committee of the Radiological Society of North America (RSNA)
Member of the European Society of Rardiology Research Committee
Member of the European Society of Radiology Radiation Protection Committee
Member of the Program Planning Committee of the European Congress of Radiology 2020 and 2021